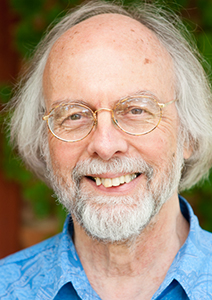 The Santa Cruz Monterey Bay Branch of the
Anthroposophical Society in America is pleased to host
Brian Gray
for its Tuesday, October 24 2017 Monthly Branch meeting
The Gospel of St. John and its Zodiacal Structure
This presentation considers various aspects of The Gospel of St. John, identified by Rudolf Steiner on 24 June 1909 as "the most important Christian document." In addition to its unique spiritual content, we will explore how the author of the John Gospel unfolds the Logos as Sun Being, streaming light and warmth into humanity on Earth comparable to our experience of the Sun's weaving through the Zodiac. We will see how the structure and mission of the John Gospel differ considerably from the 'synoptic' gospels of Matthew, Mark, and Luke. Please join us for this journey of spiritual discovery.
Suggested Donation: $15.00
At Paloma Hall, 4096 Fairway Drive, Soquel, CA
Brian Gray teaches and lectures on anthroposophical topics for Rudolf Steiner College programs. A teacher at RSC since 1981, Brian has helped to lead tours through Europe and Egypt, exploring sacred architecture.
His research includes the realms of Star Wisdom, Cosmology, Sacred Architecture and Esoteric Christianity. Brian earned a B.A. in Architecture from Georgia Institute of Technology, 1967; an M.L.Arch. (Landscape Architecture) from University of Pennsylvania, 1972; and a certificate in Waldorf Teacher Education from Rudolf Steiner College, 1981. Brian entered RSC's Foundation Year in 1979, taught by René Querido. From 1991 – 1998 and from 2006 to the present, Brian has served as Director of the Foundation Program.